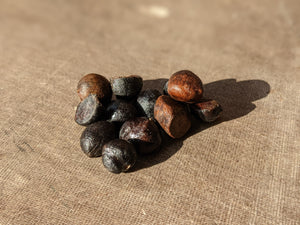 Camellia sasanqua seeds, assorted
Open-pollinated seeds from the assorted Camellia sasanquas in our gardens.  Harvested in October, these seeds are ready to ship now and will be ready to plant as early as December. Although not strictly required Camellias seeds will germinate more uniformly with a 6-8 week stratification period. Many woody plants species require stratification, a period of cool moist storage which allows germination after dormancy.
We store our seeds in the refrigerator which satisfies the stratification requirements by mid December of the year the seeds are harvested.
We can't predict what kind of plants/flowers these will produce, but keep in mind that this is how many of the new and exciting Camellia cultivars begin!
**Seed orders are processed as time allows and are shipped via USPS.  Please allow up to two wekks for delivery.
---
---
We Also Recommend