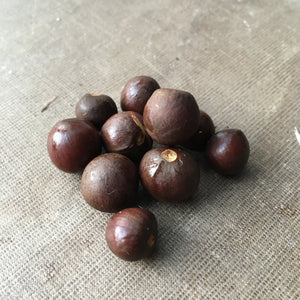 Camellia sinensis "Korea" seeds
Open-pollinated seeds from the "Korea" and Gangwon-do plants in our tea garden. 
Harvested in October, the current crop is held in stratification until shipping and will be ready to plant in December. 
About C. sinensis "Korea":
These seedlings come from plants originating on Chiri Mountain, the second tallest mountain in South Korea.  The glossy leaves are slightly larger than those of "Small Leaf" but are quite a bit darker and significantly less reticulated.  These plants have so far proven to be quite cold-hardy and their compact stature makes them great for containers. Customers have reported these are some of the more cold hardy tea plants.

Zones 7a-9
Average mature leaf size: 4.5" x 2"
10 year size: 6' x 6'
**Seed orders are processed as time allows and are shipped via USPS.  Please allow up to two weeks for delivery.
---
---
We Also Recommend