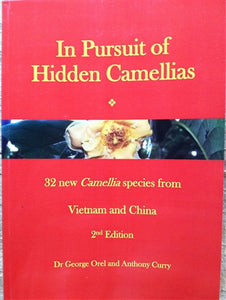 In Pursuit of Hidden Camellias
In Pursuit of Hidden Camellias by Dr. George Orel and Anthony Curry opens up a new world of exciting possibilities in the genus Camellia. The authors describe 32 new species from Vietnam and China and the range of morphological characteristics shown is amazing. Flower colors ranging from yellow to purple, new growth coming out fluorescent pink and leaves up to 75 cm long are featured in this book. The book is made up of collecting stories in the jungle and botanical descriptions of new species. The photographs could be higher resolution and there is no index, but this volume contains a wealth of invaluable information. This book is no longer in print. Softcover, 340 pages.
Shipping for this book is $10.
---
---
We Also Recommend