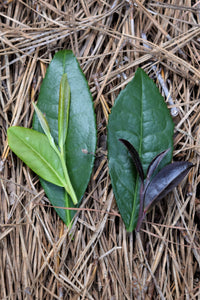 2023 Tea Harvest & Processing Workshop
This 4-hour workshop provides instruction and hands-on experience harvesting and making tea.  In our Tea Garden, you will pluck your own shoots, learn about key steps in processing for green and black tea, help with rolling, and see the process of oxidation transform the leaves for black tea. You will gain an understanding of which leaves to harvest, what processes are critical to the flavors and aromas we enjoy in tea. At the end of the class, take home processed tea samples to dry at home.
Held on Sundays, from 10am until 3pm, with a 1-hour break for lunch, either individually or as a group.  Space is limited so registration is required; classes will be held with a minimum of 4 participants.  Attendees will be eligible for "Pick Your Own" weekends in August.   Students: send us an email prior to registration to receive 50% off!
Workshop sold out? Add yourself to the waitlist using this link! Use the dropdown menu to select which workshop you're interested in and we'll reach out to you when openings become available. 
***Note: You'll receive an email regarding expected weather, attire recommendations, and other information the week prior to the workshop.  Make sure to add camelliaforest@gmail.com to your contacts so we don't get filtered to spam!
Refund Policy: Cancellations requested more than two weeks prior to scheduled workshop date will be offered a full refund. If cancellations are made less than two weeks prior to the event, a credit towards a future class or merchandise will be offered. 
---
---
We Also Recommend