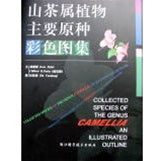 Collected Species of the Genus Camellia, an Illustrated Outline
By Gao Jiyin, Dr. Clifford R. Parks, and Du Yuequiang
One hundred and eighty-eight Camellia species are described in this comprehensive volume with lavish color photos of flowers, foliage and habit. For each species the botanical characteristics, distribution and horticultural merits are discussed in both English and Chinese. The species are grouped into sections which helps sort the many species into plants with similar characteristics. The distribution and elevation information helps one think about hardiness and adaptability to different climates. As the Chinese have grown some of these species there is useful information for the garden culture and breeding potential of many species. Of course the features of the plant are described quite completely down to the perules and chromosome number. Only 2500 books were printed and these will not be available in your local bookstore. Proceeds from the sale of the book go to Dr. Clifford Parks (the Camellia Forest Patriarch!) for Camellia breeding and research.
Shipping for this book is $15. 
---
---
We Also Recommend