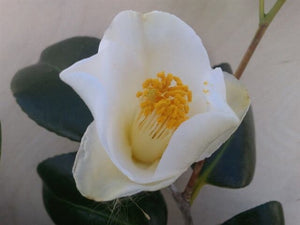 Camellia japonica 'Korean Snow'
This is one of the seedlings grown from seeds collected at the northern range of Camellia in Korea. This is similar to other cold hardy Korean selections but the single flowers have pure white petals. The leaves are dark glossy green and rounded as the edges of the leaf tend to curl under. For those of you in colder areas, 'Korean Snow' is probably your best option when it comes to pure white spring blooming flowers.  Selected by Dr. Cliff Parks of Camellia Forest, 2014.
» Bloom color: White
» Bloom form: Single
» Bloom size: Medium, 3 to 4 inches
» Bloom period (NC): Early spring (February)
» Growth rate, habit:  Moderate, upright/open
» Zones: 7a-9
» Features: CF Introduction

Note: $15 handling fee applies to ship 3 gallon size.
---
---
We Also Recommend