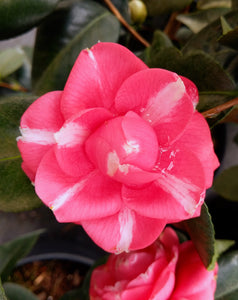 Camellia japonica 'Orandako'
"Holland Red" (transl.) is an exceptionally old cultivar that first appeared in Japanese Camellia literature in the 1730s, though it's believed to have originated in Holland a decade earlier.  Each petal shows a variable streak of white.
» Bloom color: Deep pink with white
» Bloom form: Formal double
» Bloom size: Small, 2.5 to 3 inches
» Bloom period (NC): Mid to late spring (Mar-Apr)
» Growth rate, habit: Vigorous, upright
» Zones: 7b-9
» Features: Antique, bicolor blooms

Policy effective April 1, 2022: No refunds will be processed for variegated Camellias on account for solid blooms. We try our best to select plants that have visible variegated blooms, but due to the genetics of the plant, the variegated blooms cannot be guaranteed. By adding this plant to your cart, you accept the no refund policy.
Note: $15 handling fee applies to ship 3 gallon size.
---
---
We Also Recommend