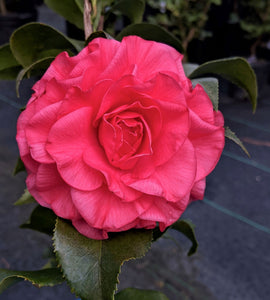 Camellia japonica 'Blue Ridge Sunset'
This C. japonica chance seedling that first flowered in 1994. It was originated and registered by C. M. and Lillian Gordy of Ocala, Florida and propagated by Erinon Nursery of Plymouth, Florida.
 » Bloom color: Bright lavender pink with a darker center
 » Bloom form: Rose form double
 » Bloom size: Medium, 3 to 4 inches
 » Growth rate, habit: Upright/dense
Note: $15 handling fee applies to ship 3 gallon size.
---
---
We Also Recommend