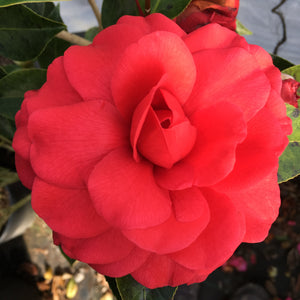 Camellia japonica 'El Rojo'
The dark green leaves of this cultivar are reputed to be exceptionally tolerant of direct sunlight - a rare feature for C. japonica.  First blooming in 1961 and introduced in 1973, 'El Rojo' is still quite new to us.
 » Bloom color, form, size: Bright red, rose-form to formal double, medium (3-4")
 » Bloom period (NC): Mid spring (March)
 » Growth rate, habit: Moderate, upright
 » Zones: 7b-9
 » Parentage: Chance seedling
Note: $15 handling fee applies to ship 3 gallon size.
---
---
We Also Recommend