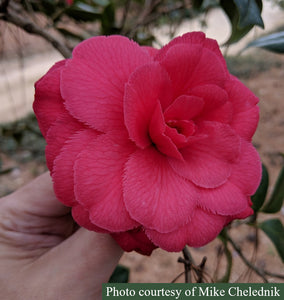 Camellia japonica 'Flowerwood'
(PP #1004) This 1951 introduction from Domoto Nursery of California was first discovered on a plant from Flowerwood Nursery in Illinois.  Thick petals are edged with narrow, finger-like serration similar to 'Astro Nova' and the leaves of 'Holly Bright'.
» Bloom color: Dark red
» Bloom form: Rose-form to formal double
» Bloom size: Large, 4 to 5 inches
» Bloom period (NC): Mid to late spring (Mar-Apr)
» Growth rate, habit: Vigorous, upright/compact/open
» Zones: 7b-9
» Features: Antique
» Parentage: Mutation of C. japonica 'Mathotiana' (Julia Drayton)
Note: $15 handling fee applies to ship 3 gallon size.
---
---
We Also Recommend