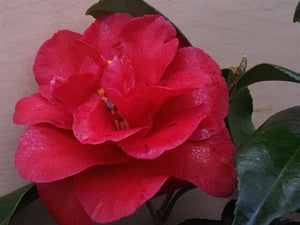 Camellia japonica 'Kuro Delight Var'
Somewhere along the line, a 'Kuro Delight' started showing signs of viral variegation: yellow spotting on the leaves and occasional white blotches on the flowers.  Subsequent clones of the plant proved stable and 'Kuro Delight Variegated' was born!
About 'Kuro Delight':
This plant has the darkest red flowers of any of the cold hardy Camellias. Semi-double, maroon red flowers open mid-season against long, narrow leaves (reminiscent of those on a peach tree). 'Kuro Delight' has slow, spreading growth when potted, but quickly grows in a more upright fashion once planted in the ground. 

 » Bloom color, form: Red, semi-double to loose peony
 » Bloom size: Medium, 3 to 4 inches
 » Bloom period (NC): Mid spring (March)
 » Growth rate, habit: Moderate, upright
 » Zones: 6a-9

Note: $15 handling fee applies to ship 3 gallon size.
---
---
We Also Recommend