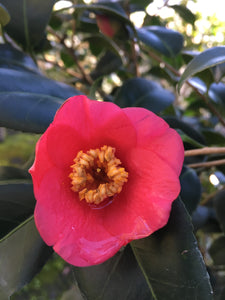 Camellia japonica 'Longwood Centennial'
This plant was selected from wild C. japonica populations in South Korea and named in honor of Longwood Gardens' 100th anniversary in 2007.

» Bloom color: Pink
» Bloom form: Single
» Bloom size: Mini to small, under 3 inches
» Bloom period (NC): Early to mid spring (Feb-Mar)
» Growth rate, habit: Moderate, upright/dense
» Zones: 6b-9
» Features: Cold hardy

Note: 10 gallon size cannot be shipped.  They are available for Nursery Pick-up ONLY.
---
---
We Also Recommend