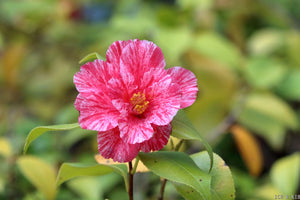 Camellia japonica 'Nukifude'
'Nukifude' which roughly translates to worn paint brush, accurately describes the single 'vase shaped' variegated blooms. 
 » Bloom color: White with red stripes
 » Bloom form: Single
 » Bloom size: Medium 1 to 3 inches
 » Bloom period (NC): 
 » Growth rate, habit:
 » Zones: 
 » Features: 
Policy effective April 1, 2022: No refunds will be processed for variegated Camellias on account for solid blooms. We try our best to select plants that have visible variegated blooms, but due to the genetics of the plant, the variegated blooms cannot be guaranteed. By adding this plant to your cart, you accept the no refund policy.
---
---
We Also Recommend