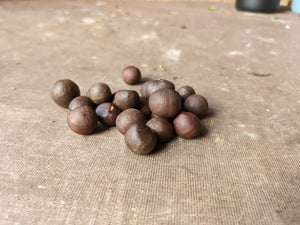 Camellia sinensis "Sochi" seeds
Open-pollinated seeds from the cold hardy 'Sochi' plants in our tea garden.
Harvested in October, the current crop will be ready for planting as early as December.  Our seeds are stored in the refrigerator, under stratification, until shipment.
About C. sinensis "Sochi":
These seedlings come from plants developed at tea research stations in the Sochi region of Russia. Glossy, medium-green leaves are medium to large in size. They perform beautifully in our Zone 7b garden, and growers in Zone 6b have reported good cold hardiness and vigor.

Zones 7-9
Average mature leaf size: 4.5" x 2.5"
10 year size: 8'T x 8'W
**Seed orders are processed as time allows and are shipped via USPS. Please allow up to two weeks for delivery.
Place an order on 2022 seeds and we'll double your quantity of this variety.  Offer good while supplies last.  --->When you hit the quantity of 10, you'll get 20 seeds!  
---
---
We Also Recommend