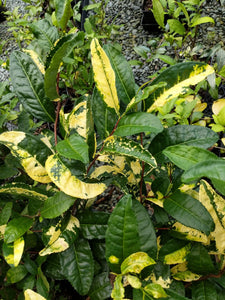 Camellia sinensis 'Yellow Tea'
The leaves of this cultivar are heavily splotched with yellow and positively enormous, growing up to 7.5" long and 3.5" wide.  This particular plant grows rather slowly and produces fewer shoots than is typical for the species, so we recommend either multiple plants or making this a more ornamental specimen in your tea garden.
The available plants show no yellow variegation. I suspect a virus is causing the yellow blotches so the presence or absence of yellow will vary. I suspect the yellow will reappear as the plant grows, maybe in a year or two.
Zones 7a-9
Average mature leaf size: 6.5" x 2.5"
10 year size: 5'T x 5'W
---
---
We Also Recommend