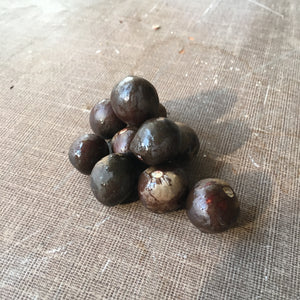 Camellia ptilophylla seeds
Open-pollinated seeds from Camellia ptilophylla plants in our tea garden. Since these are open pollinated they are likely to be hybrids with Camellia sinensis. In our experience the seedlings tend to have larger leaves and look like C. ptilophylla.
Harvested in October, the current crop will be ready planting as early as December.  Our seeds are stored in the refrigerator, in stratification, until shipment.
About C. ptilophylla:
C. ptilophylla - a.k.a. "Cocoa Tea" - has some distinct chemical differences from C. sinensis, so we are listing this as a separate species rather than a variety.  It grows as a small tree as opposed to a shrub and hails from Guangdong province.  It's leaves can be up to a whopping 7 inches long!  "White-hair tea" is a special, high-quality tea made from the shoots of C. ptilophylla, named for the pubescence (short, soft hair) covering most surfaces except for the top of the leaf.  These plants are open-pollinated seedlings.

Zones: 7b-9
Average mature leaf size: 6" x 2.5"
10 year size: 10'T x 8'W
**Seed orders are processed as time allows and are shipped via USPS. Please allow up to two weeks for delivery.
---
---
We Also Recommend