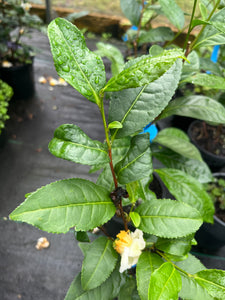 Camellia sinensis 'Black Sea Tea' Seedlings
Our "Black Sea Tea" seedlings come from plants developed at Russian tea research stations, in what is now the country of Georgia.  The tea plantations in the area are on the coast of the Black Sea, which has a similar climate to Zone 7.  These plants have similar genetics to 'Sochi', so we expect good vigor and cold hardiness.
Zones 7a-9
Average mature leaf size: 4.5" x 1.5"
10 year size: 8'T x 8'W
Are you growing this variety in Zone 6?  We'd love to hear how your plants are doing!
---
---
We Also Recommend