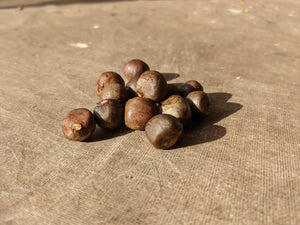 Camellia sinensis "Fairhope Select" seeds
Open-pollinated seeds from the 'Fairhope Select' (formerly 'Lipton Plantation') plants in our tea garden. 
Harvested in October, the current crop is held in stratification until shipping and will be ready to plant in December.
About C. sinensis 'Fairhope Select':
(Formerly 'Lipton Plantation') This selection from Donnie Barrett of Fairhope Tea Plantation has small, medium green leaves with pronounced serration.  Vigorous growth produces lots of shoots for harvest!  Prolific flowers and seed set, and quite cold hardy.
**Seed orders are processed as time allows and are shipped via USPS.  Please allow up to two weeks for delivery.
 Place an order on 2022 seeds and we'll double your quantity of this variety.  Offer good while supplies last.  --->When you hit the quantity of 10, you'll get 20 seeds!  
---
---
We Also Recommend